Adult Day Care for People With Alzheimer's or Dementia Condition
by goldenUser ,April 26, 2022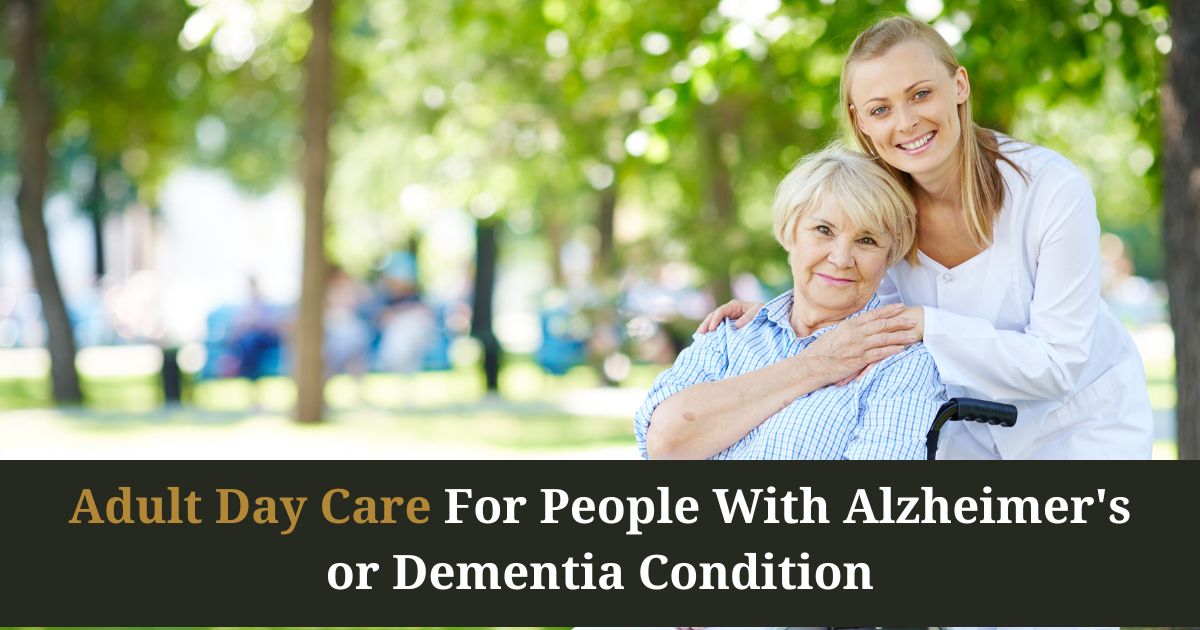 Adult day care can be an excellent option for people with significant diseases who need extra care and supervision. Adult day care for elderly with dementia or Alzheimer's centers provides a structured environment with activities and social interaction, which can help to improve their mood and function. They can also offer respite for caregivers who may need a break from providing constant care. This article provides more information about this type of care center.
Common Advantages
Improved mood and function: It can provide a stimulating environment. It can help to improve mood and cognitive function.
Respite for caregivers: Adult day care for people with dementia. They can enjoy having some time away from their caregiver. This can help to reduce stress and prevent burnout.
Social interaction: Social interaction is important for people with Alzheimer's or dementia. It can provide opportunities for socializing with other people in a similar situation.
Structured activities: Structured activities can help to improve focus and attention span. They can also give a sense of purpose and enhance well-being.
Supervision and safety: People with Alzheimer's or dementia may wander off and get lost. It can provide a safe and supervised environment.
How Adult Day Care Helps Elderly People
As people live longer, issues like chronic health conditions increase. According to the National Institute on Aging, approximately one in four people over the age of 65 have Alzheimer's disease or another form of dementia. For these individuals, adult day care can provide much-needed support and help.
Adult day care for the elderly with dementia or Alzheimer's centers offer a structured environment. Where older adults can socialize, exercise, and take part in activities. This can help to improve cognitive function and stave off depression. Also, day care centers can provide respite for caregivers, who may otherwise be at risk for burnout. According to the Family Caregiver Alliance, it is also more affordable than other types of long-term care.
Caregiver Benefits For Elderly
Many times, the elderly need help with everyday tasks such as bathing, dressing, and eating. They may also need help with transportation to and from doctor's appointments. Besides, caregivers can provide much-needed companionship for the elderly. Often, the elderly become isolated and lonely as their friends and family members move away or die.
A caregiver can provide a much-needed sense of companionship and social interaction. Additionally, caregivers can provide support and help with medication management, financial planning, and other important tasks. The benefits of having a caregiver are many and can make a significant difference in the quality of life of the elderly.
●     Good Environment For Elderly People
According to a study done by the National Institutes of Health, a good environment benefits elderly people. It includes lower mortality rates, less disability, and fewer bouts of depression. The research indicated that being in a physically-stimulating environment. The seniors can be more mentally sharp and engaged. Also, social meetings and physical activity are both important factors in maintaining the mental and physical well-being of elderlies. Staying active and connected to a community can help to improve their health and quality of life. The NIH's research highlights the importance of providing supportive environments for our aging population.
●     Focus On Individual Care
In our fast-paced world, it can be easy to forget about the needs of our elderly loved ones. With adult day care services, you can rest assured that your loved one is being taken care of. At the same time, you're away in another city or work. These facilities provide a safe and nurturing environment for seniors, focusing on individual care.
Whether it helps with basic needs or simply companionship. It can make a big difference in the life of an elderly person. Besides providing essential services,these centers can also offer social and recreational activities. This can help to reduce boredom and isolation and can promote a sense of community. With so much to offer, it's no wonder that adult day care is becoming a popular option for seniors and their families.
●     Flexibility
While most people think of it as a place where elderly adults go for a check-up and care for during the day, there is a lot of flexibility in what these centers can offer. Some centers focus on providing social activities and opportunities for interaction.
In contrast, others may offer more educational and cultural programming. Some centers provide primary care services such as bathing, dressing, and grooming. The others offer specialized care for those with dementia or Alzheimer's disease. The type of services provided will vary depending on the community's needs and the population that the center serves. As a result, adult day care can be a vital resource for many different types of people.
Elderly Benefits
Adult day care centers like Golden Years offer a perfect solution for elderly loved ones. This is a service for people who need some help for the elderly during the day. They provide socialization, activities, and meals in a safe and supportive environment. If you're looking for a adult day health care center for your elderly loved one, be sure to check out Golden Years.