5 Valuable Things You Can Do For A Senior
by goldenUser ,July 19, 2022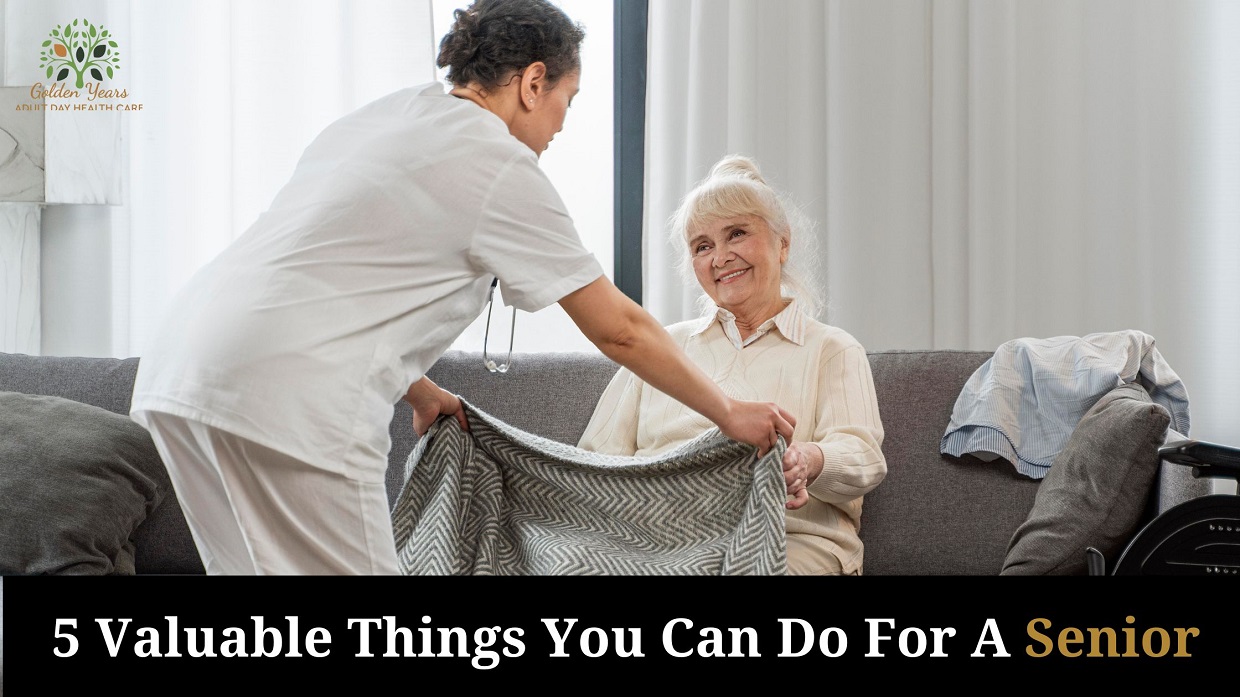 Have you ever wondered what more can be done to help seniors in your life? It can be your family member, a friend, or someone close to you who'd like you to be there for them. There are many ways in which you can help and assist your elderly like community based adult services also, primarily by simply lending an ear to what they have to say. Nonetheless, here are some ideas.
Help Them with a Home Safety Audit

It is a fact that more significant accidents occur at home than at any other place. Statistics show that central falls are the reason for 70% of accidental deaths of seniors above the age of 75 & 40% of all nursing home admissions. When it comes down to seniors, the numbers are even higher. 

 Another way to stop falls to settle for a professional home safety audit for your elderly's home. The audit will check the areas of concern and give recommendations. You can easily take a look around the place next time you visit. You can check that the rugs are wrinkle-free or not; edges should be firmly tacked in place. If some area rugs are placed, there should not be slip-pads beneath them.


Make Them Aware of Technology

Do you remember the first time you operated a computer or cell phone? It wasn't as easy as you'd think, right? There is an instruction manual available with the device, but they are printed in small type along with small buttons on remotes, making the instructions harder for them to read.  

 A bunch of seniors are tech-savvy. But those who aren't very familiar with technology get easily frustrated by devices and manuals. You can assist your elderly to make them enjoy a new and fresh world of communication and information by sparing the time to decide what sort of equipment they have and knowing what they know about the same and what kind of difficulties they are having, later on, assist.


Creating Opportunities to Socialize and Learn

Some common emotions can frustrate elders, like loneliness, boredom and apathy. The death of spouse or distance from friends and family also leaves them lonely and isolated. Poor health conditions or disabilities may stop them from getting out of their place and socializing. You can always avail day care for adults. 

 Suppose they sit in front of the television all day and night. In that case, it's not a substitute for socializing and engaging with others and exchanging ideas, especially when there is a bundle of courses and activities curated at community centers, colleges, and NGOs. You can get that catalog and sit to review it with them. Along with all the choices, some courses ignite their interests.  

 They can have a hobby like fishing or shuffleboard. You can invite them next time you go fishing at some lake or recreational complex. You can also take them to church or a movie theatre. At last, it doesn't matter wherever you take them or what you do. All your efforts and the fact that you've taken the time to include them in your plan will matter.


Provide a Pet


Pets can be called a family too. Studies show that people with pets live longer and healthier lives. A dog or a cat can keep seniors happy, emotionally fulfilled, and most importantly, active. If you are pet-friendly, buy your senior's pet a toy or go with them during their walks. You can also make sure that their pets are adequately fed and well-groomed. You can offer to take care of their pet for a day or so, take them on annual vacations, etc. 

Help them Make Arrangements for a Garage Sale

 When your elders decide to shift into a more senior-friendly space or shift closer to their kids and family, one of the initial steps is to get rid of all that extra stuff they've gathered over the years. Garage sales are tried and tested ways of doing that.  

 Planning plays a significant role in a successful garage sale. The longer you spend accumulating, pricing, and managing items for your sale, the more successful it'll be. You can go for a weekend date which won't conflict with holidays or any other special occasion which might distract the prospective customers. Try to manage the sales coinciding with neighbors' sales: more sales, more customers. Make sure you place the most desirable things in the back of the garage so browsers can glance at all other merchandise on their way to the most popular items.  

 If you are looking for adult day care center services for your seniors, we have a broad category to look for. Check out the website and learn more.