Top 8 Benefits of Day Care for Disabled Adults
by goldenUser ,July 4, 2022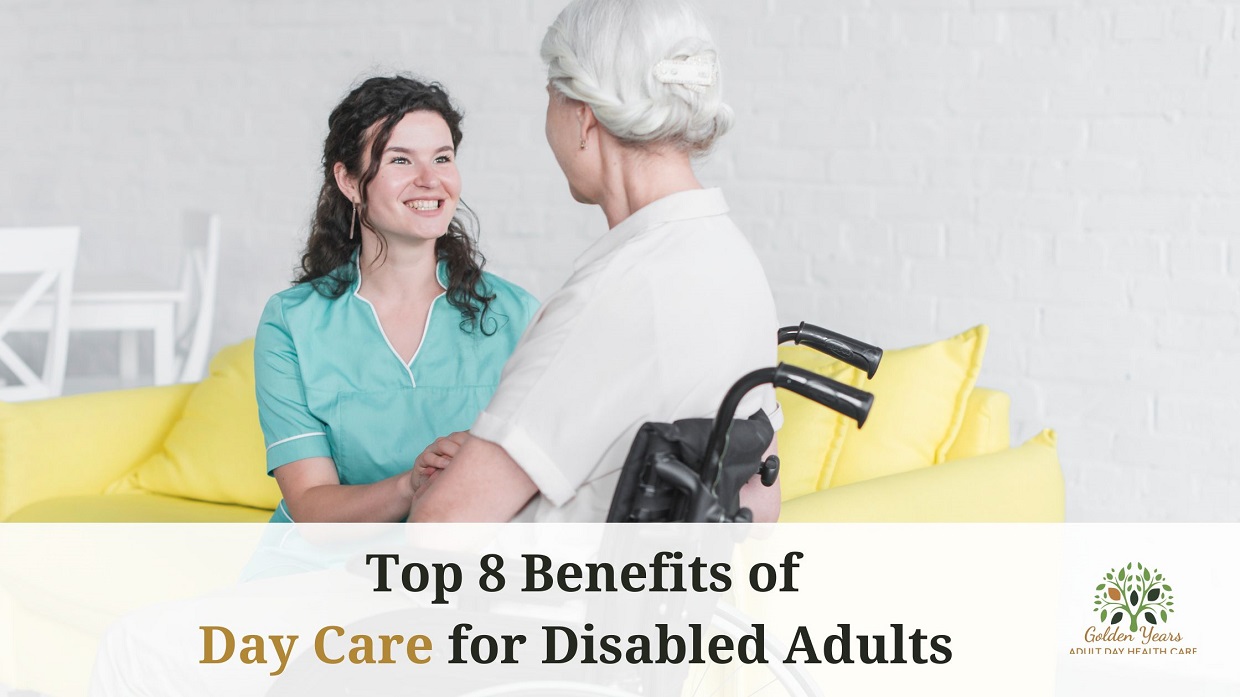 Disabilities are something one can face at any age, like at childhood or adulthood. But it is mostly seen in senior age where the people face major disabilities in life. These disabilities need special nursing care or help from a specialist adult day care service.
The family members find it hard to care for the health of the seniors with disabilities. Because they have a lack of time and a vague routine, during such times, it is advised to keep the eldery person in adult day health care for proper care.
We will introduce you to all the benefits of sending adults with disabilities to daycare in this article.
Benefits of Day Care for Adults
Adult day health care gives eldery people a way to have social interaction with others. Adults with disabilities have very few chances to meet or interact with others. In contrast, a day care allows them to meet the other adults with disabilities and allows them to share their emotions with each other.
Improvement In Senior Health:
It is proven that a peaceful environment helps in rapid health improvements. For senior health, a good environment is a must for the healing from their disabilities. The adult day care offers nursing and other facilities by which the adult's nutrition and medications are properly taken care of.
Another major help that adult day care gives apart from improving mental health is taking care of physical help. Adult care engages the adults with physical activities like exercising, yoga, walking, etc., to give them a healthy boost regularly. This keeps their body in good shape for a long time.
It is a risk to leave the adult person by themselves at home. Instead of that, it will be better to keep them at a day care center as it is safe, helpful, and beneficial for the family. There is a high chance of things sideways in an eldery person's health at a given point in life. So it is better to keep them in the presence of people who can monitor and help them anytime.
For each adult, a certain routine is required regarding their medicines, exercise, food, and more. It is a tough job to keep track of the personalized routine. And that's why adult day health care is better, which gives nursing services. By which the health routine is maintained daily.
Adults with disabilities get through a lot of stress in their life and have no desire to live their life. In these times, the daycare center gives them joy, happiness, mental peace, and hope to live their life. They keep the wish to live life awake in them by reducing their stress.
At home, we try our best to take care of adults but still miss some key elements in their routine, such as medicines, exercise, or something else. But at adult day care, there are zero chances to let these things happen. They give proper nursing care to the adults and take care of them.
The care that such centers give is for a long-term. It helps ensure that their physical, social, and mental health is at a beneficial stage. Where they keep the adult's daily routine activities and engage in their lives, you can give them a stay at a day care center for as long as you want.
To Conclude
The adult day care is the place to give seniors a gala time of their life. Golden years is an adult day health care near Arcadia, which gives all the facilities and services to care for the adults, especially those with disabilities.
Related Article: –
Things To Consider Before Choosing The Right Adult Day Care For Loved Ones