Major Ways To Improve Your Senior Loved One's Well Being
by goldenUser ,June 28, 2022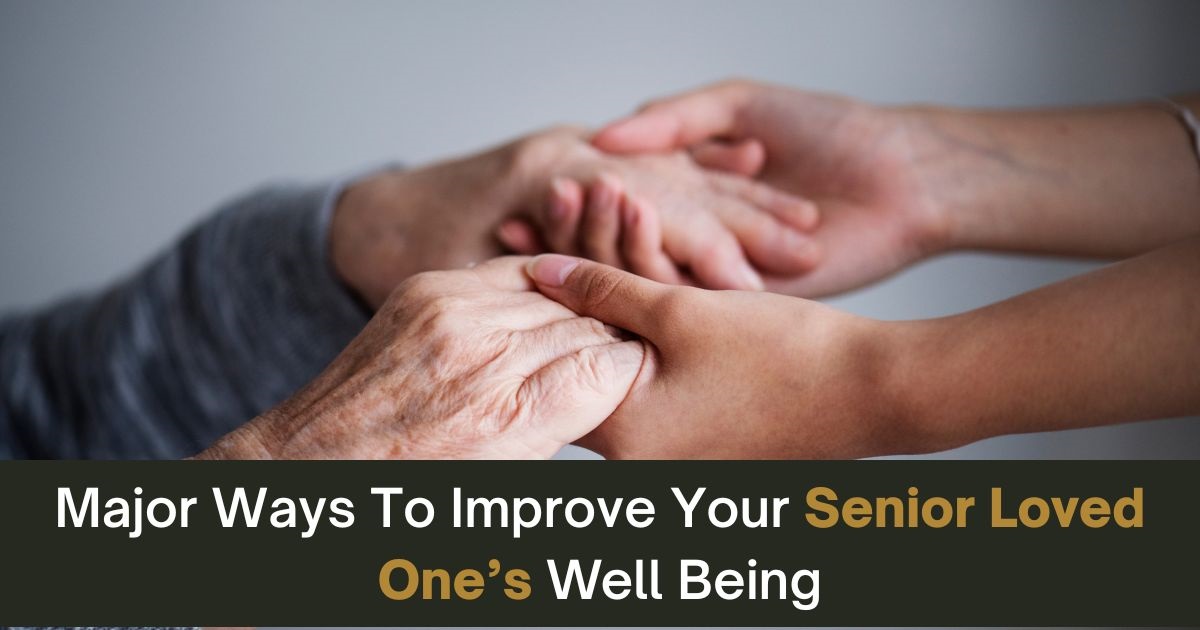 As family caregivers, we want our seniors to be in good health all the time. We tend to go out of our way to ensure they are in good physical and mental health. There are senior daycare places to engage them with different activities and allow them to meet new people. This improves their health and mind every day.
There is senior day care for adults with disabilities to give proper treatment and help them with their recovery. A special senior community treats the adultery person with care and makes them feel at home. But apart from that, we can also give them good peace of mind at the house by trying out new things to improve their well-being.
Ways To Improve Well Being of Seniors
Treat Their Depression:

One of the major problems we see as people get old is depression. They start to think there is no use for them, and their life is purposeless, which is completely wrong. This impacts the majority of adults and puts them into major depression. The first solution which comes to everyone's mind is to enroll them at senior daycare. but before that, the first thing they need is to care for them at home. Some of the other ways to achieve this is to talk with them regularly, engage in activities, take them out at gatherings, and more. This will give mental peace and prevent depression.
Create A Sense Of Purpose:

After a certain age, when you have fulfilled all your life duties in personal and professional life, you start to lose interest in everything. The same things happen with adults. They feel like they have no sense and purpose in their life. Which is wrong; they need to have the desire in their life and feel happy in their life. There should be an environment for them where they feel a sense of belonging and purpose in their life. Ask for their advice, talk with them about your personal feelings, give them a space where they can express themselves, get a guide with them, talk with your elderly about their young days, etc. All these small things will matter to the majority and give them a sense of life.
Encourage Them For Physical Activities:

The main cause of all the issues in elderly people's life is the limitation of physical activity or disability. This makes them vulnerable, start to feel no purpose in life, and eventually leads to depression. So one needs to take care of the physical activity of their elderly person. In the senior daycare center, they make sure to have constant physical exercise for the adults, which you can also provide at home by taking them for a walk and encouraging them to do exercises or yoga. Also, try to do these activities outdoors in a fresh environment. This will help in boosting the immunity system, and maintaining blood pressure, stamina, and strength.

Keep Them Engaged With People:

One of the things which elderly people feel strongly about is the isolation from their people. Try to unite them with other senior communities, and make their days happy. Because when the person is left alone at a certain age, they start drawing in their life, and the same thing happens with the elderly people. It is better to talk with them every day and make them contact other people to feel safe and comfortable in their life. This helps greatly in their life to have a happy and positive mindset. Arrange regular family and friends to visit them or take them out regularly.
There are many ways to take care of the senior people's well-being. Apart from home routine, if you want to take good care of them, then Golden years is the best place for senior daycare with tons of activities and fun to make them feel good in life.
Related Article: –
What Are The Services Offered In Adult Day Health Care?